2

R and R Tools
2.2

R Packages
2.2.1

Introduction

R packages are community made functions that automate or expand the things you can do in the R language. The process for installing them is largely the same for both Windows and Mac. There are three main methods for installing R packages. You can install them from the Comprehensive R Archive Network (CRAN) from within R, from another online source like Github, or from files on your local machine. We will cover each of these methods here.
2.2.2

Packages from CRAN

The vast majority to packages in R can be installed from CRAN. You will need the name of the package you want to install. Once you have the name (case sensitive!), you can download it from within R using the install.packages() function in the R console.

For example, if you wanted to install the skimr package, you would enter install.packages("skimr"). Note that you do need to put the package name in quotes, and that it is case sensitive. You can install multiple packages at a time by passing a vector of package names to install.packages(), for example: install.packages(c("skimr", "corrplot")).

You can test if the packages installed correctly by calling it in R using the library() function.
2.2.3

Packages from Github

Not all packages are available on CRAN, especially very new or very old packages. For these you will most likely need to install them from an online repository, the most common of which is Github. There are some R packages that make this process easy. We will use the remotes package.

First install the remotes package by running install.packages("remotes") in the R console. If it installed correctly, you will see package 'remotes' successfully unpacked and MD5 sums checked.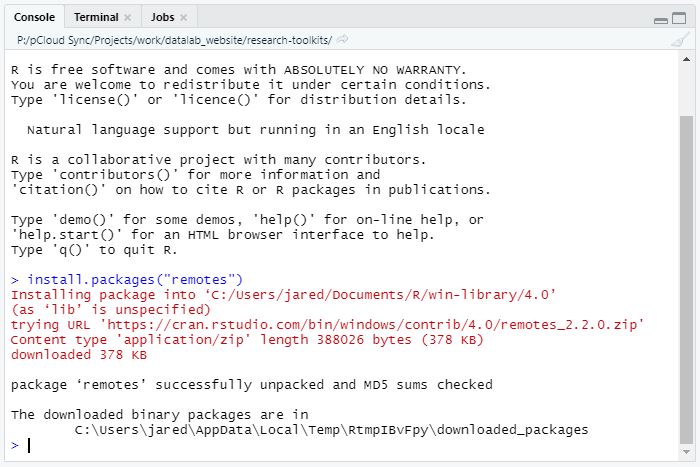 Once remotes is installed, you can install packages directly from an online repository. We will use remotes's install_github() function to demonstrate. Let's try installing the handy wordcountaddin for RStudio. First navigate to the package page on Github: https://github.com/benmarwick/wordcountaddin.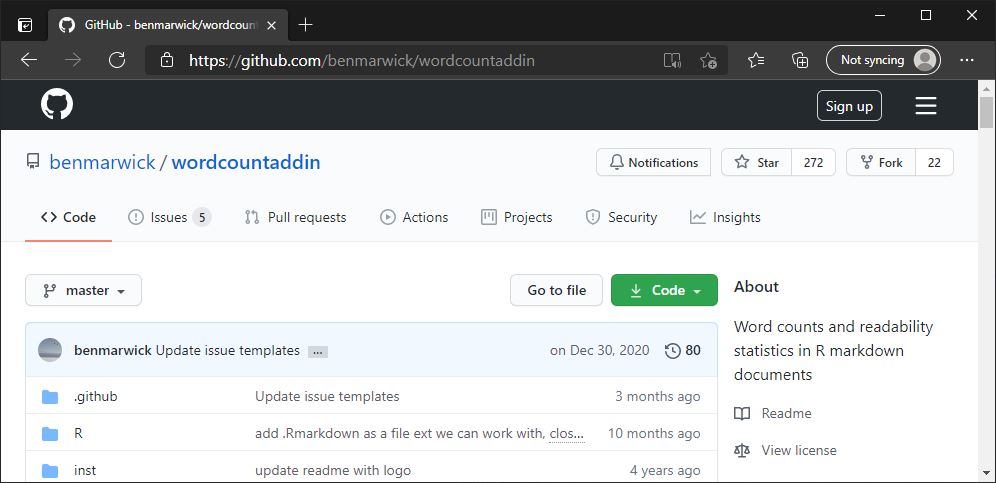 Most packages that need to be installed from an online source will give you the code to do so in the readme of their repository. Another common package for installing from online repositories is called devtools, but this package contains many other functions we don't need for this task. You can replace devtools with remotes almost all of the time.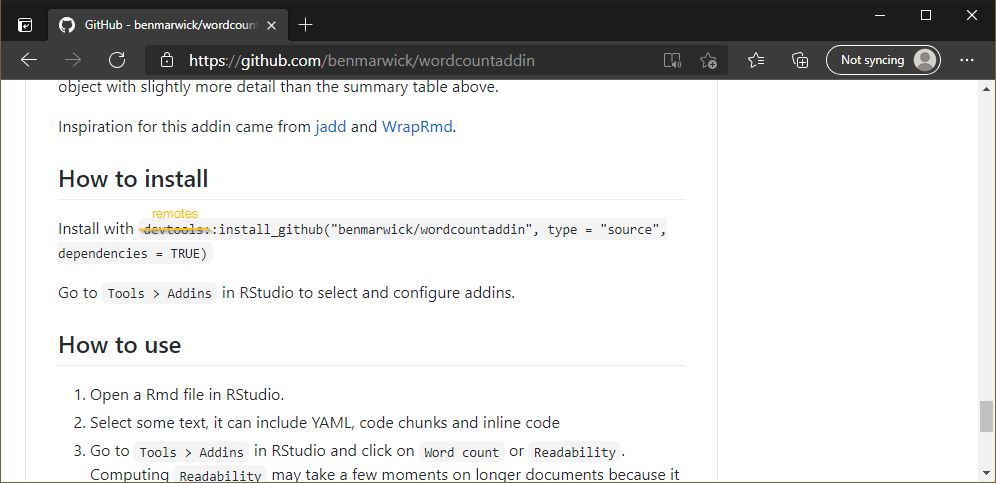 For our case, type remotes::install_github("benmarwick/wordcountaddin", type = "source", dependencies = TRUE) into the console and hit enter. You may be asked if you would like to update other packages. Enter 1 to try and update all. If this doesn't work, you can enter the command again and try 3 to ignore these updates.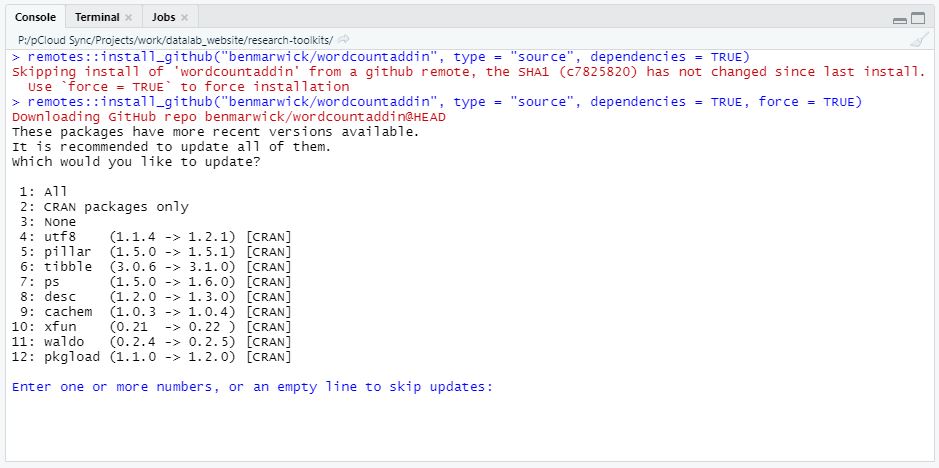 Read the resulting install output. As long as it does not indicate anything failed to install, you're done!

You can now use the helpful wordcountaddin! You can find it in the Addins dropdown above the editor pane.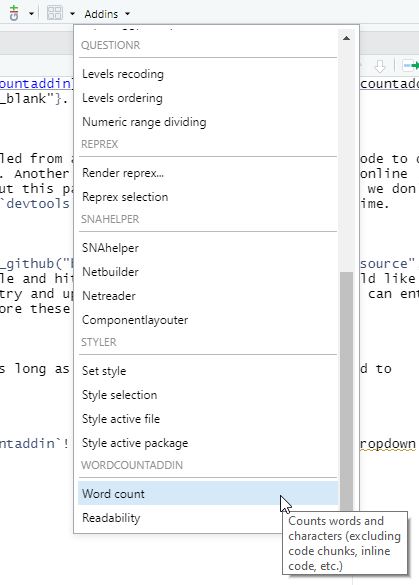 2.2.4

Packages from Local Source

On occasion it will be necessary to install an R package from a local source .tar.gz file. You would need to download this file yourself, then install it. For example, let's download then install the mgcv package from https://cran.r-project.org/web/packages/mgcv/index.html. First navigate to that page, and click on the download link next to package source.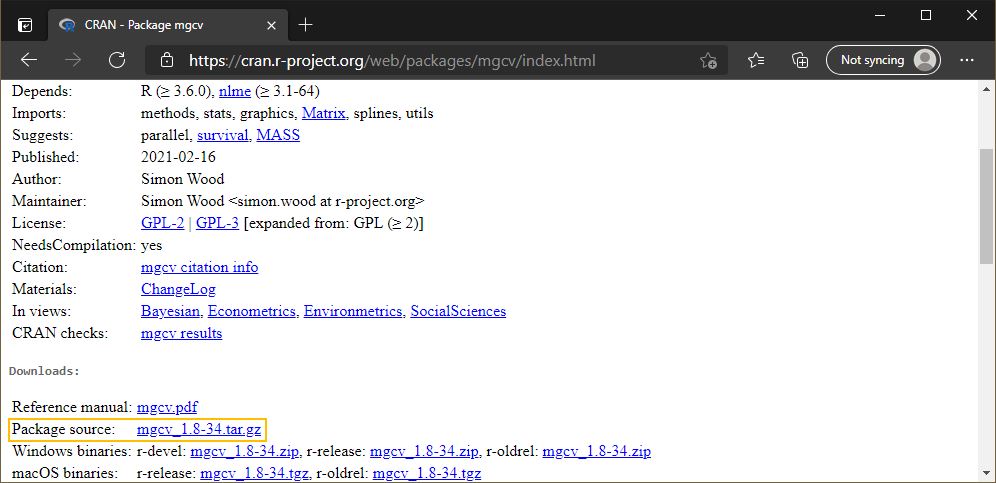 Once the .tar.gz file is downloaded, leave it as it is, do not decompress it. Instead, find the file on your system and take note of it's location. On Windows you can shift-right click on it, then select Copy as path.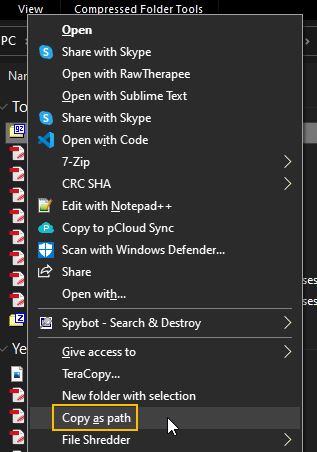 In your R console, type in install.packages("path/to/your/source_file.tar.gz", repos = NULL, type = "source"). R will start installing the package from the local copy.
Two things to note for Windows users:
You will need to have installed R tools on your machine. There is a guide for that lower in this document.

If you are on windows, you will need to make sure your file path uses forward slashes (/) rather than back slashes (\).